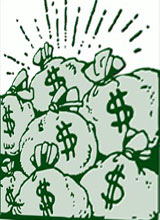 I'VE been mulling over the
different ways
an internet newbie and computer idiot like me can learn to make money on the internet.
True, it was Super Affiliate Ewen Chia's
Autopilot Profits
System that first fired up my interest and got me started on my quest to learn how to make money on the internet. I've set up my first
"online cash machine"
- a couple of blogs and I've signed up for a few affiliate products.
So, am I on the right track to
making money on the internet?
?
I took a step back, explored the options and saw that there were
two quick and easy ways
for newbies to set up their
first online cash machine.
Let's start with the quickest and easiest.
Make Money from Google Adsense & Amazon
The steps are easy for a newbie:
Set up a blog on a target market which is of interest to you.

If you're a newbie, it is wise to write a blog about something which you know fairly well or passionate enough not to mind researching and writing about it.

Remember you will be writing quite a lot to keep your blog current and constantly googled. Imagine the stress and anxiety of having to write something you have no interest in almost every day! The other alternative is to hire a web content writer.

You can set up a blog free-of-charge with Blogger or Word Press for a fuss-free start to making money on the internet
Sign up for a Google AdSense and an Amazon Account.


Display Google Ads and advertise Amazon products on your blogs.

You start making money on the internet when visitors click on the Google Ads or buy an Amazon book. First, sign up with Google Adsense and Amazon. Second, copy the html code of the Google Ads and insert them inside your blog post, side bar or anywhere on the page. Similarly, Amazon will generate html codes of products you've selected. Copy and Paste the html code onto your blog.
Keep your blog's content current by uploading a post every day or at least three times a week.


Make sure you write unique, interesting, quality content.

The easiest way for a newbie to start is blogging about their own experiences of starting an internet business, hobbies or expertise. People love to hear stories, read reviews, and recommendations.

Avoid duplicating content without permission. Or, risk getting into copyright trouble.
Tell your mom, dad, friends, and the world about your blog. Create backlinks to your blog on your Facebook, MySpace profile.
Your Online Cash Register Rings Only When ...
visitors to your blog start doing two things:
Click on the Google Ads



Order an Amazon Product displayed on your blog
You Get Extra Bonus From Banner Advertising Only When
your blog generates consistently high traffic.
Advertisers are then willing to pay you a fee for displaying their ads on your blog.
That's a
triple
bonus.
Because you are now making money on the internet from
Google Adsense, Amazon and Banner Advertising!
Sounds Simple?
It may be the easiest way to set up your newbie online cash machine, but before it can start making money online for you, you need to generate traffic to your blog.
The next step is to start
building a popular blog
which draws a ton of visitor traffic. If your blog draws only a trickle of online visitors every day, your Google Ads are not going to get a lot of eyeballs or clicks.
Writing keyword-and content-rich blog that is targeted at a specific market is one way to drive increasingly more traffic to your blog.
And a keyword-rich blog pulls relevant Google Ads to your site.
What About Earnings' Potential?
Anywhere from $1 to $5,000 a month from Google Adsense and Amazon.
Don't you think $200 a month is good decent money to buy the little extras you want (not need)?
Now, if you are serious about turning Google Adsense into a money-making machine, check out this resource book:
The AdSense Code: What Google Never Told You About Making Money with AdSense
Be An Affiliate
An Affiliate (also known as Affiliate Publisher/Reseller) is one who promotes and sells another person's product. You don't own the product. You become the
direct sales force
of the person who produces the Affiliate product. It's not MLM because you don't have downlines though some affiliate products are packaged almost like an MLM.
Now, you use your blog to promote
Affiliate
products by way of a product review or pointing to the pre-sell affiliate page in the text of your blog.
Most of the time, you do earn a very good commission (that's your 'sales reward'), anywhere between 50% to 75%, for selling every product.
The most popular affiliate brokers ("middlemen"):
ClickBank - if you plan to promote digital, downloadable products like e-books.



Commission Junction - if you plan to promote both physical and downloadable products
These two affiliate product brokers have proven track records and reliable payout systems.
Becoming an Affiliate is the second easiest way to make money on the internet. You still need to do a bit more work because you have to look for suitable affiliate products that are
in demand
and in the
niche
you're targeting at in your blog.
However, you do not need to write ad copy, produce promotional banners, etc. It is in the interest of the Affiliate Merchant to give you all the marketing tools you need to produce his or her product.
What you need to do is to showcase the affiliate product on your blog by way of reference or review. You can sell as many affiliate products as you want on your blog.
Whether you're promoting Google Adsense, Amazon or any affiliate product, the key to success is the same:
Visitor traffic, Quality Content.
The guiding principle is: lousy content, no traffic; no traffic, no sales, no cash online.
I highly
recommend this book
for anyone who wants to know how to profit more from Affiliate Marketing. It's
The Complete Guide to Affiliate Marketing on the Web: How to Use and Profit from Affiliate Marketing Programs
It's a smart move for an internet newbie to focus his or beginning efforts on these two steps:
Building a content- and keyword-rich quality blog (or website)



Finding ways to bring in lots of visitor traffic
Will these two steps
make you very rich
like the millionaire internet marketers who drive fancy cars and work at home on their Apple laptops sitting by their home swimming pools?
After days of mulling over dozens of free reports - my answer is no, not yet.
To achieve
extraordinary wealth and success
like the internet marketing gurus, becoming an affiliate of many products or displaying Google Adsense and Amazon Ads on your blog is simply not enough.
Having a content- and keyword-rich blog and high visitor traffic are neccessary but they do not complete the picture-perfect success of an
internet millionaire.So, What's the secret?
There is no secret.
I've got it figured out.
You need to do the
third step
well, no, very well.
Create a fan club.
No, I'm not kidding.
In my non-geek speak, it means this:
Create your own customer base and know how to keep in touch with your customers.



Create your own list of potential customers and keep them interested in what you offer.
Yes, just like any successful brick and mortar business.
If you're a newbie and in a hurry to start making some extra money fast online, the first two steps - the easy, lazy, fuss-free way - are good enough. And really, why not? But if you have BIG dreams, do the third step, very, very well.
Now, if you like my honest and fair opinion, won't you subscribe to
my email subscriber list?
(write on subject header: subscribe)
:O)
P.S.
Want a fast and easy way to
START making money
on the internet? Get instructions on how to set up your own
Online Cash Machine
here.
P.P.S
Special Bonus: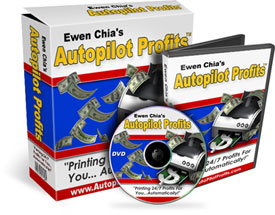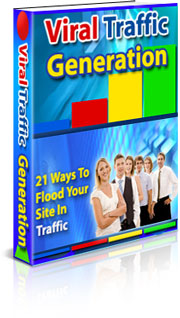 Get a
FREE
E-book on
21 Ways to Flood Your Site In Traffic
when you order your copy of Autopilot Profits from this
link
.
To claim your free e-book, email your FULL NAME, FULL EMAIL ADDRESS, RECEIPT NUMBER of product purchase (issued by Clickbank) and send to
autopilotconfirmation
You'll get your special bonus as soon as it is verified that you've made the order from the
link
here.